"Kintsugi" workshop -Learn from a nationally recognized master craftsman-
3hours
-
¥30,300 / Per person
Don't hide your wounds, embrace them.Then even imperfection can become newness and strength.
Kintsugi is a traditional technique that adds a wonderful touch to damaged objects. This technique symbolically represents the Japanese sense of beauty (acceptance of imperfection) and the spirit of valuing things. The restored object is transformed into a completely new and unique object while retaining the story of the past, so that it can be used with love and care again.

In this session, you will learn directly from a master craftsman who has been engaged in the creation and restoration of Buddhist ritual objects for over 50 years, and is recognized by the government as a traditional craftsman who maintains advanced skills and techniques, and has also received the Order of Merit. Interacting with artisans who have been creating traditional Japanese crafts may be an opportunity to expand your world.

・Private experience
・Offered in Japanese, with friendly Sharing Kyoto guide interpreting in English
・Local meeting and local breakup

What's Included
◎ Kintsugi experience fee (includes materials and vessels)
◎ English Interpretation
△ (Optional) Bring your own vessels or change to antique vessels
✖ Food and Drinks, Transportation costs
What To Expect
Choose a vessel and learn the technique of restoring it using gold powder.

During the process of drying, while enjoying tea and sweets with vessels created and repaired by the instructor, you will also see and hear about the instructor's wide range of works, including Buddhist altars, and learn about the interesting history of traditional crafts.

The restored vessels will be placed in a wooden box for you to take home.

*The original traditional technique of hon-kintsugi, using lacquer, is a process that takes at least one month to complete, so it cannot be done during this experience, but you will be taught the process!
Instructor:Mr. Tsutomu Matsuda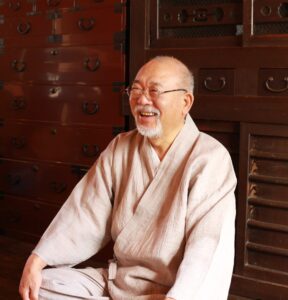 He is a skilled master craftsman and is well versed in "lacquer" used in traditional Japanese crafts. Friendly and personable, he has a sound knowledge of lacquer and a wealth of experience, teaching not only Kintsugi but also a wide range of other Japanese crafts. He is also happy to show you his own works (Buddhist altars and ritual articles), helping you to gain a deeper understanding of Japanese culture.
-Over 50 years of experience in the production of Buddhist altarware and other artifacts, winning numerous awards at competitions
-In 2004, he was certified as a traditional craftsman (a national qualification for those with advanced skills and techniques in traditional crafts)
-In 2019, he was awarded the Order of the Sacred Treasure, Silver Rays
Details
Date & Time
Weekdays (Monday through Friday)
10:00 - 13:00 / 14:00 - 17:00
*Available only from 10:00 on 8/23 and 8/30
Available only from 14:00 on 7/19 and 7/24
*Flexibility to change
*Please inquire by 12:00 p.m. the day before
Capacity
8 people max. Minimum 2 participants
*If you would like more than 5 people to participate, please contact us.
*Participation by one person is possible at the rate of two people.
Who can attend
Children must be 12+
*Children under 12 may experience one vessel with a parent or guardian/fee is for one person
What to wear
Clothing that you don't mind getting dirty. Aprons, arm covers, and gloves will be provided.
Options
1) You may bring your own vessels.
*If the instructor determines that kintsugi is not possible due to cracks or other reasons, you will experience kintsugi with a prepared vessel. Please send us a photo of the vessel before the class so that we can check it.
2)If you wish to use antique vessels, please let us know on the day.
*Additional fees (from 2,000 yen/market value) will be required.
Contact
If you have any questions, please contact us at
E-mail:hello@sharing-kyoto.co.jp
Phone:+81-(0)75-254-7485

Additional Info
・Please book at least 12:00 p.m. the day before
(Office hours: Monday - Friday 9:00 a.m. - 5:00 p.m.)
・Confirmation will be received at the time of booking.
・Applicants must be at least 18 years old to apply. Minors must obtain the consent of a parent or guardian before applying.
・The experience may be cancelled or postponed at short notice, or the content may be changed due to traffic conditions, etc.
・The experience may be filmed and posted on social networking sites or used in articles.
・We may share your responses to surveys and reviews on our social networking sites and in the media.
Cancellation Policy
・Free of charge if cancelled up to 2 days before the workshop date, 30% up to the day before, 100% on the day of the workshop
・Special Cases(Natural disaster, virus, etc.):Full refund
・Bank transfer fees for refunds in the event of cancellation will be borne by the customer.
Where you'll be
Address
7-7 Nishi-suyacho, Shimogyo-ku, Kyoto 600-8833
Directions
7 minutes walk from Umekoji-Nishi Station on JR Line
Approx. 15 minutes from JR Kyoto Station
Take City Bus No. 207 bound for Toji temple and get off at "Shichijo Omiya / In front of Kyoto Aquarium"