Meeting Geiko and Maiko at a Wagyu Beef Fun Dining
2hours
-
¥18,700 / Per person
Wagyu Ryotei Bungo Gion
Since Bungo is affiliated with a teahouse, Geiko and Maiko may come to meet you during your meal.
If you make a reservation, you can watch Geiko dance and play traditional games with them in your private room.
It is not easy for tourists to meet and talk with Geiko and Maiko, therefore we recommend Bungo to those who want not only to eat delicious Wagyu beef, but also to have a gorgeous cultural experience.
What's Included
◎ Food (10 dishes)
◎ If you're lucky, you'll see Geisha and Maiko
*Geisha experience in a private room is also available. Please contact us.
✕ Drink
✕ Hotel meet-up
Dinner Course Details
Gion Wagyu Beef Course - 10 Dishes(Chateaubriand) v The course begins with an appetizer using traditional Kyoto vegetables, followed by all kinds of Wagyu beef dishes, including Wagyu beef sashimi, tail soup, shabu-shabu, sukiyaki, and chateaubriand steak. The small portions can be enjoyed as a tasting menu.

During the course of the meal, each table is provided with a bowl of rice cooked over an earthen pot, so that those who have not eaten enough can have another bowl.

For dessert, in addition to the seasonal plates, there is also a customized experience where you can choose your favorite flavor of the popular Kyoto souvenir "Yatsuhashi" (a sweet made from red bean paste sandwiched between rice cake sheets kneaded with cinnamon).

*The restaurant also have a 22,000 yen course with a larger number of items, so please let us know if you would like this course.
*Please let us know if you do not like raw meat (can be changed to grilled menu).
*Beef can be changed to other ingredients and gluten free.
*Seating fee for private rooms is 5,500 yen per person.
Option:Maiko Ozashiki Experience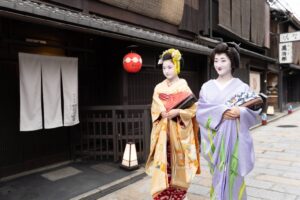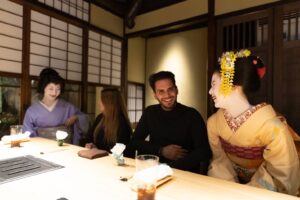 You can have the Geiko and Maiko all to yourself in a private room for the "Ozashiki" experience.
For about an hour, you can freely spend time watching dances, playing simple games, and taking commemorative photos.
If you ask in advance, you can have a Maiko give you a bouquet of flowers or a gift, which is recommended for an important family anniversary or birthday surprise.
* 2-8 people, reservation required. Please contact us for more information.
Other Details
Capacity
8 people max. Minimum 1 participant
*10 minutes prior to arrival is required
Private dining rooms
Available 4 private rooms, 2-8 persons.
Seating charge is 5,500 yen per person
Open Hours
5:00 p.m. - 11:00 p.m.
Lastorders at 8:00 p.m. (Food) /Last orders at 10:30 p.m. (Drink)
Closed
Non-scheduled holiday
Non-smoking/smoking
Non-smoking
Credit cards
VISA, MASTER, JCB, AMEX, Diners / Accepted
Contact
If you have any questions, please contact us at
E-mail:hello@sharing-kyoto.co.jp
Phone:+81-(0)75-254-7485
Additional Info
・Please book at least 72 hours in advance so that we can build the best experience for you.
・Confirmation will be received at the time of booking.
・Applicants must be at least 18 years old to apply. Minors must obtain the consent of a parent or guardian before applying.
・The event may be cancelled or postponed or the content may be changed at short notice due to various circumstances.
・The tour may be filmed and posted on social networking sites or used in articles.
・We may share your responses to surveys and reviews on our social networking sites and in the media.
Cancellation Policy
・Cancellation fee will be waived up to 4 days prior to the event date, and 100% of the fee will be charged from 3 days prior to the event date.
・100% cancellation fee if you are more than 30 minutes late without notice.
Where you'll be
Wagyu Ryotei Bungo Gion
Address
Kyoto, Higashiyama Ward, Motoyoshicho, 56 605-0087
Directions
4 minutes walk from Keihan Gion-Shijo Station